GIVE KIDS A SMILE : FEBRUARY 2022
6TH ANNUAL EVENT
Thank you all for making our 6th Annual Give Kids A Smile event a great success. Our doctors, hygienists and assistants and front office team worked hard and helped many kids from Buford and surrounding areas, aged 2-12 years providing free dental care including X-Rays, Dental Exam, Dental Cleaning, Dental Sealants. We handed Free toothbrushes and toothpastes.
We get so much happiness in serving the community and giving back every year by this great event. We are Give Kids A Smile supporter since 2018. This is a nationwide event launched in 2013 started by American Dental Association. The vision for this event is to ensure access to quality oral healthcare for all children. To date, over 7 million underserved children have received free oral health services through this program.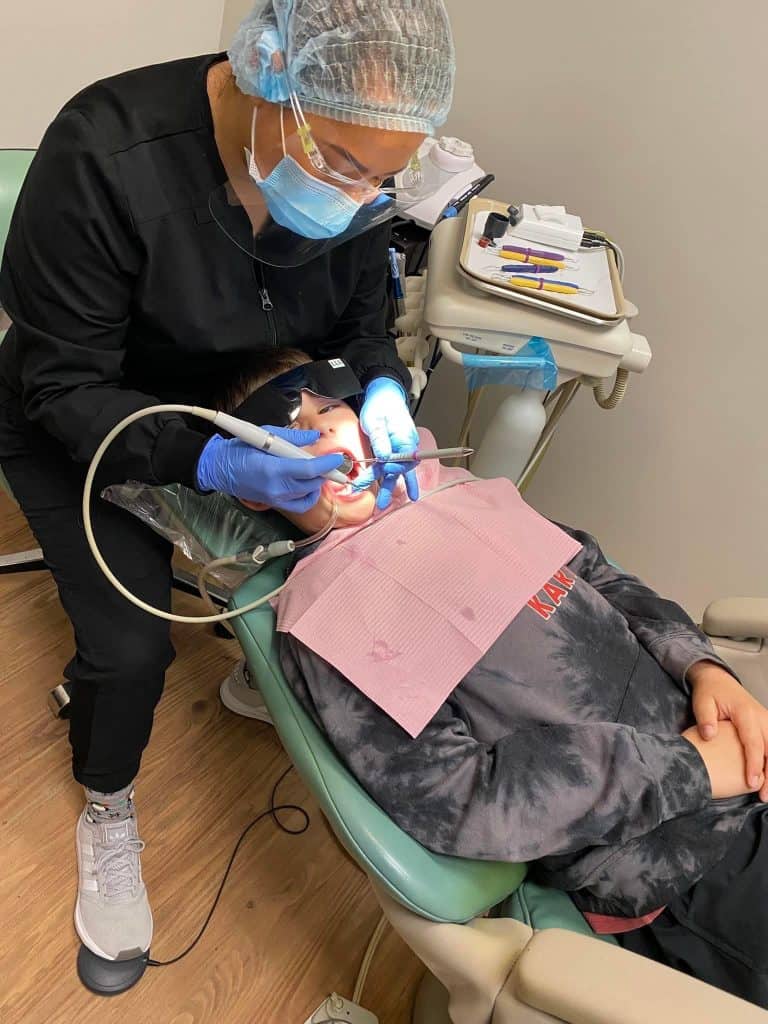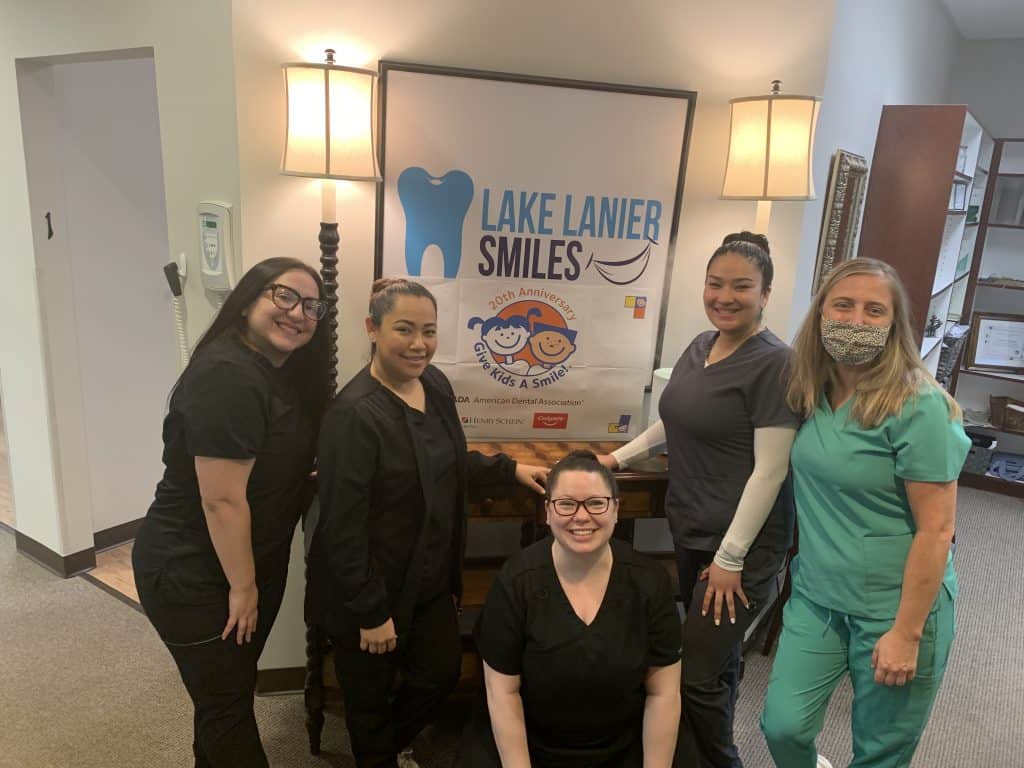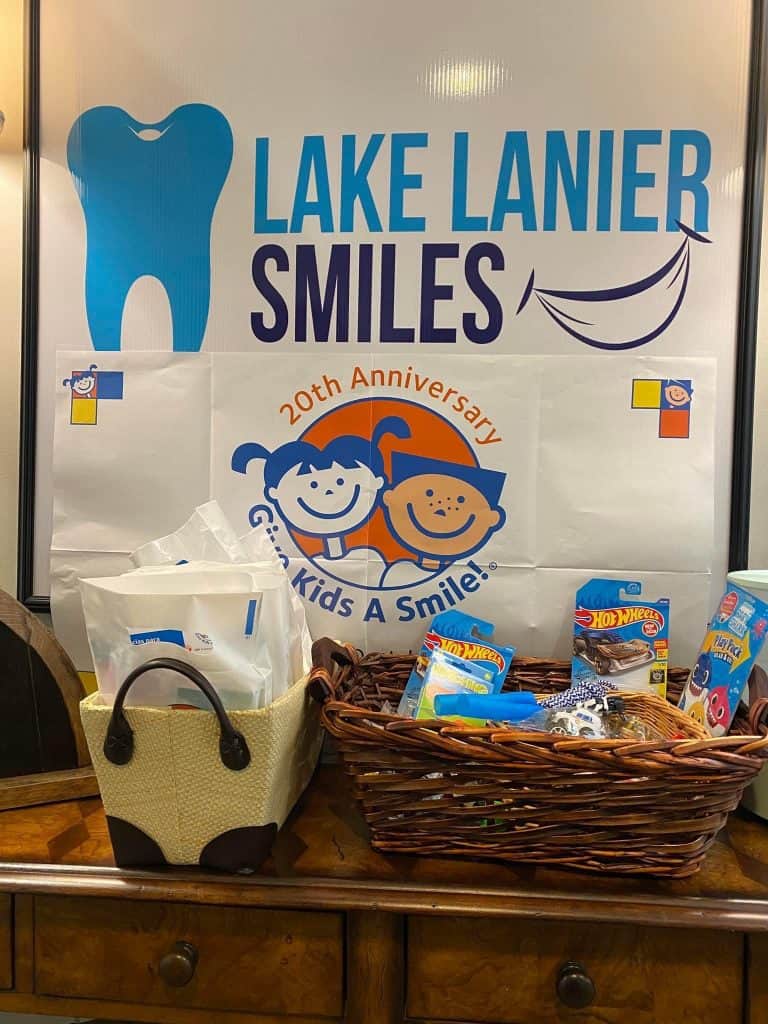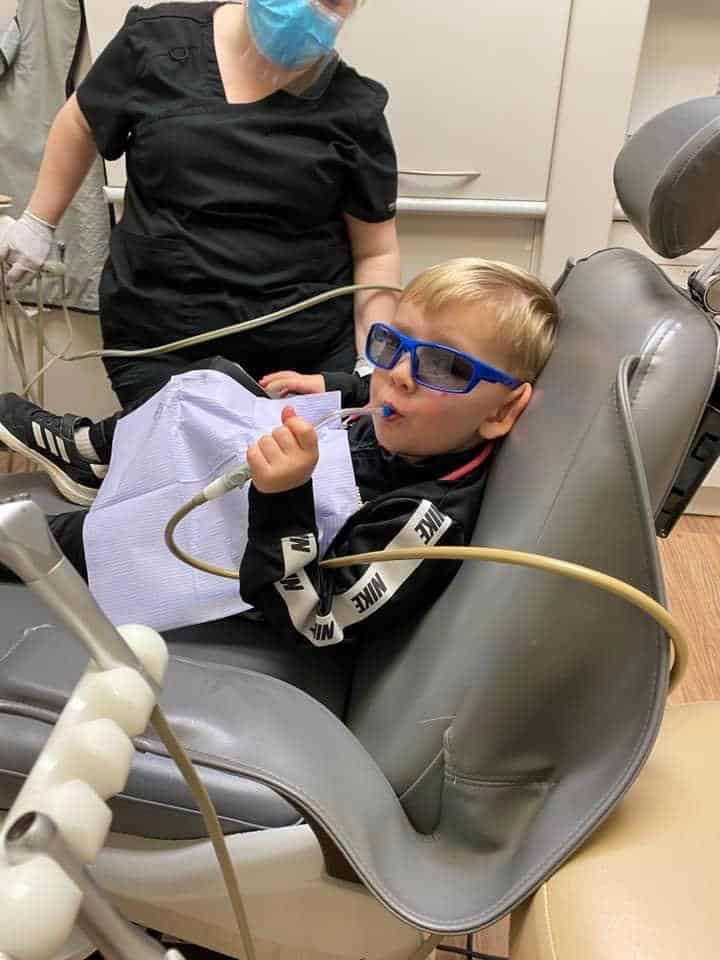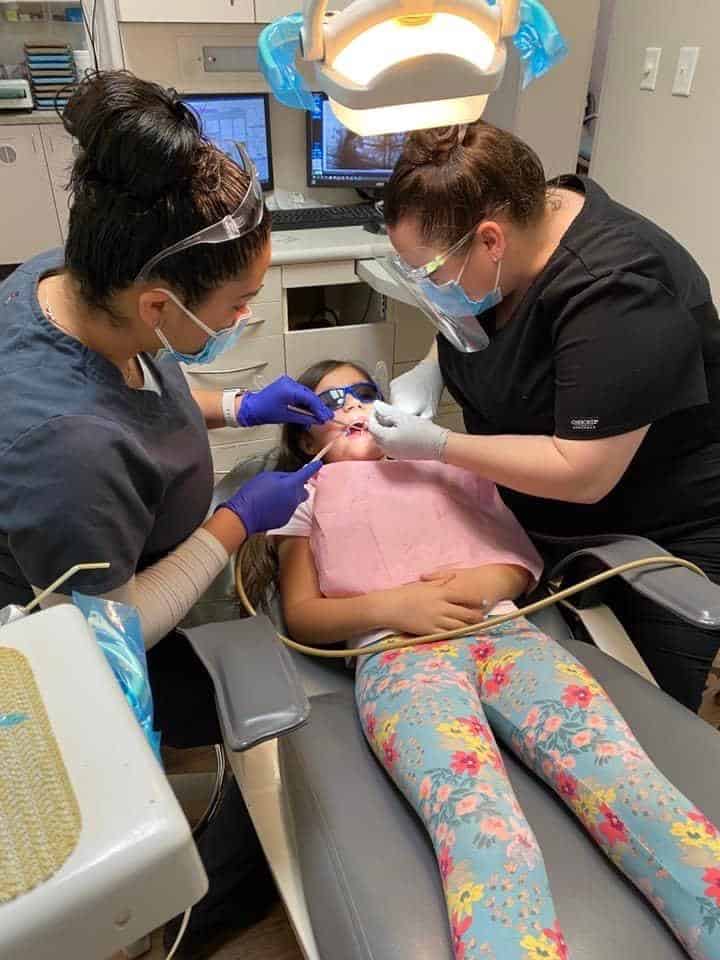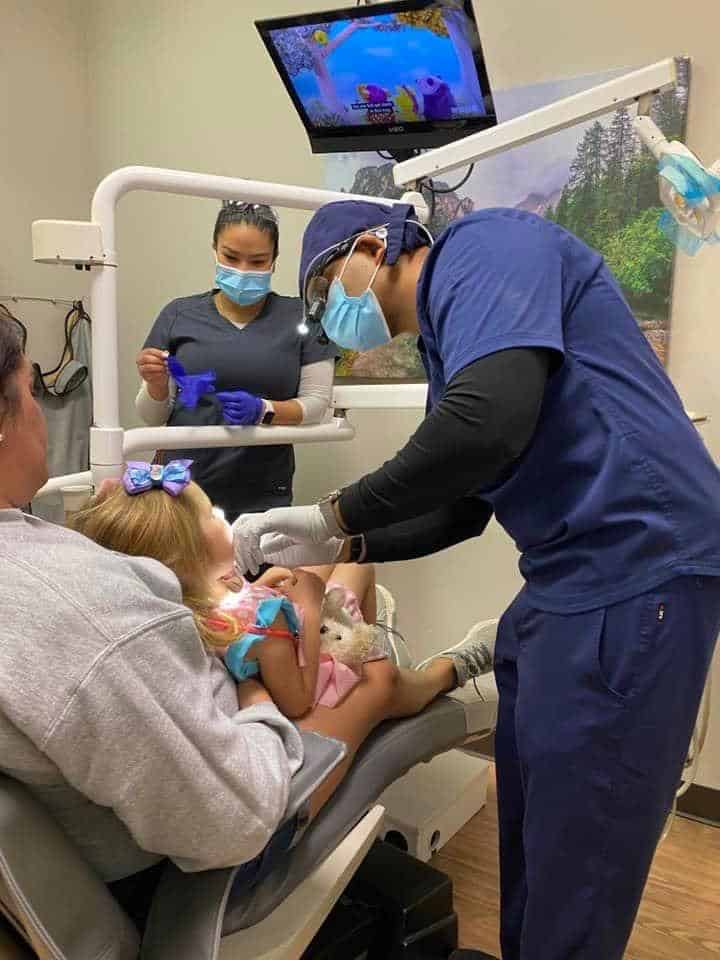 TOYS FOR TOTS
DECEMBER 2021
Lake Lanier Smiles is proud to be an official Toys For Tots Collection Site again this year. We have been doing this great event since 5 years. We collect new and unwrapped toys for kids aged 2-14. It is so satisfying to donate a toy to kids who are less fortunate to celebrate Christmas. This year we collected a lot of toys and are filled the whole large box. Toys For Tots is a program run by the US Marine Corps Reserve which do an awesome job in collecting the toys and distributing them. We appreciate those volunteers who dropped us the boxes and also picked up the collected toys at out Buford Dental Office.
Thanks for all the donations that helped to make this Christmas to remember and a dream come true for kids in Buford and Gwinnett County who might otherwise be forgotten.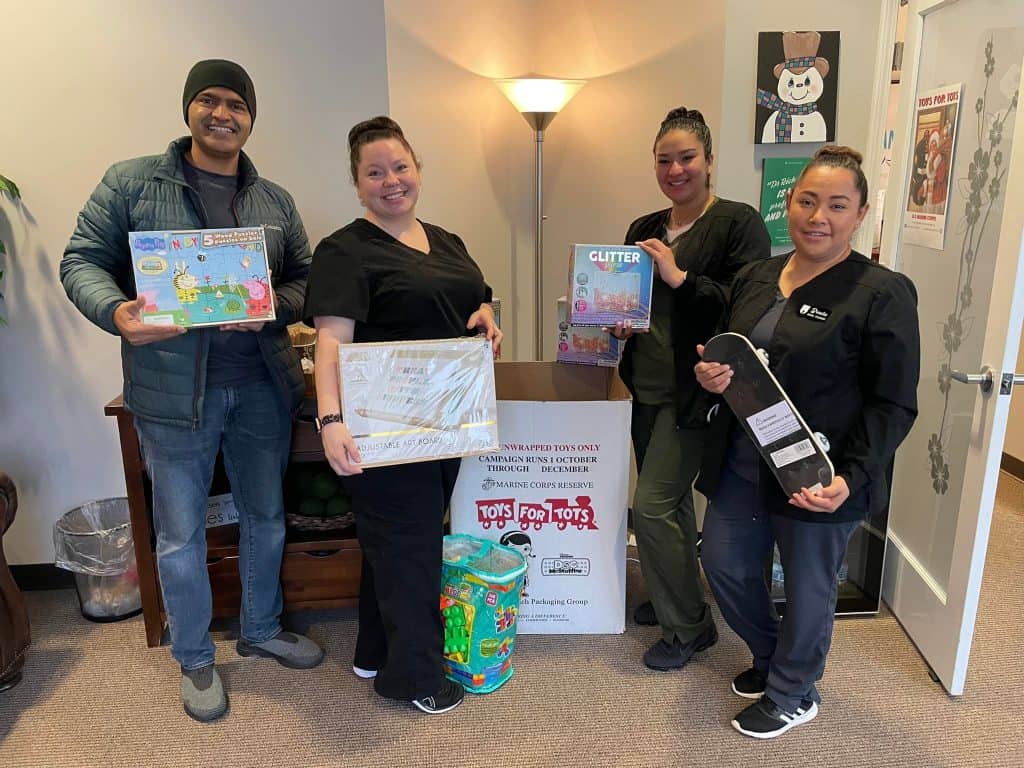 ---
GIVE KIDS A SMILE
FEBRUARY 2021
Give Kids a Smile 2021 was a great success despite COVID-19 pandemic. We are so honored to help the GWINNETT AND HALL COUNTY and BUFORD kids.
This is our 3rd Annual Give Kids A smile Event at LAKE LANIER SMILES. February is a National Children's Oral Health Month and we promote the benefits of good oral health to children and their caregivers this whole month.
The Awesome team of dental professionals lead by Dr. Praveen Gudipati including dentists, hygienists, assistants and front office participated in this wonderful event.
We are able to serve several children on February 23rd 2021 with Free Dental Examination, Dental X rays, Teeth cleaning, Topical application of fluoride, Oral hygiene instructions and gave toothpaste and toothbrushes.
We are very thankful for the GWINNETT AND HALL county and Buford city kids for giving us the opportunity to serve our community.
We would like to appreciate our team of dentists, hygienists, assistants and other volunteers for giving their time and talents to ensure that children are given the dental care they need and deserve all across the Gwinnett and Hall county.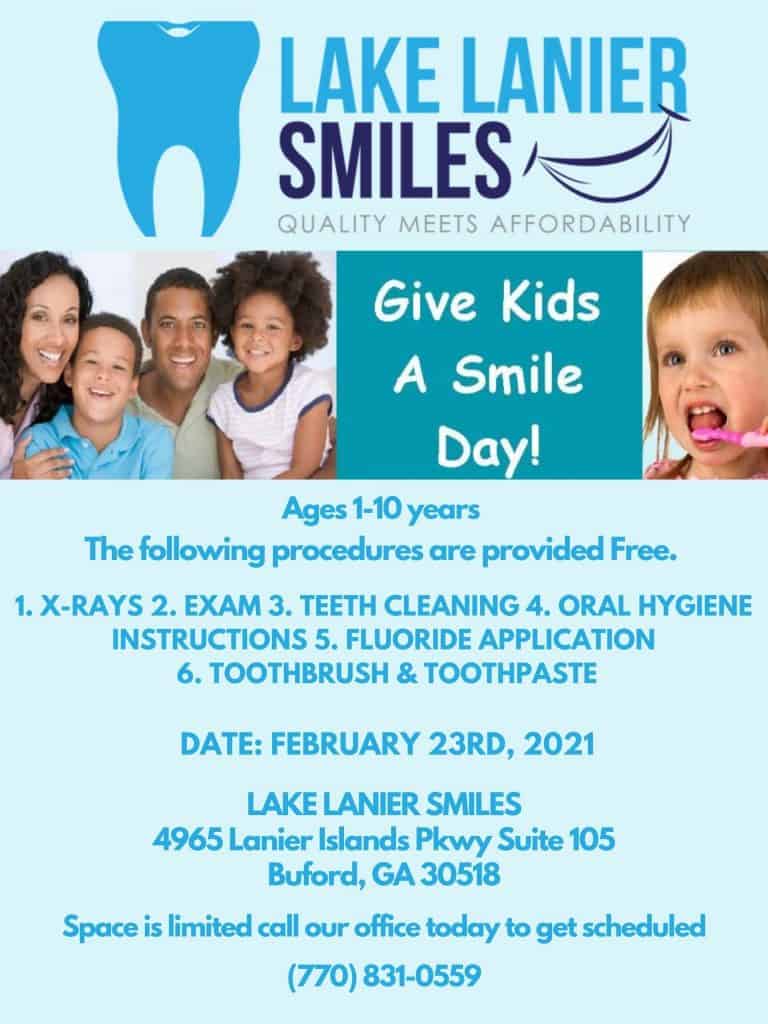 ---
TOYS FOR TOTS 2020 EVENT IN BUFORD, GA
DECEMBER 2020
This month Lake Lanier Smiles was a drop off location for Toys for Tots. Our community was so generous this month and we ended up donating over 50 toys! Some of the toys we received were left outside one early morning and we had no idea who to thank. Others were donated by our shopping center neighbors and of course our lovely patients. Shout out to all of our patients and people of Buford who contributed to this amazing cause.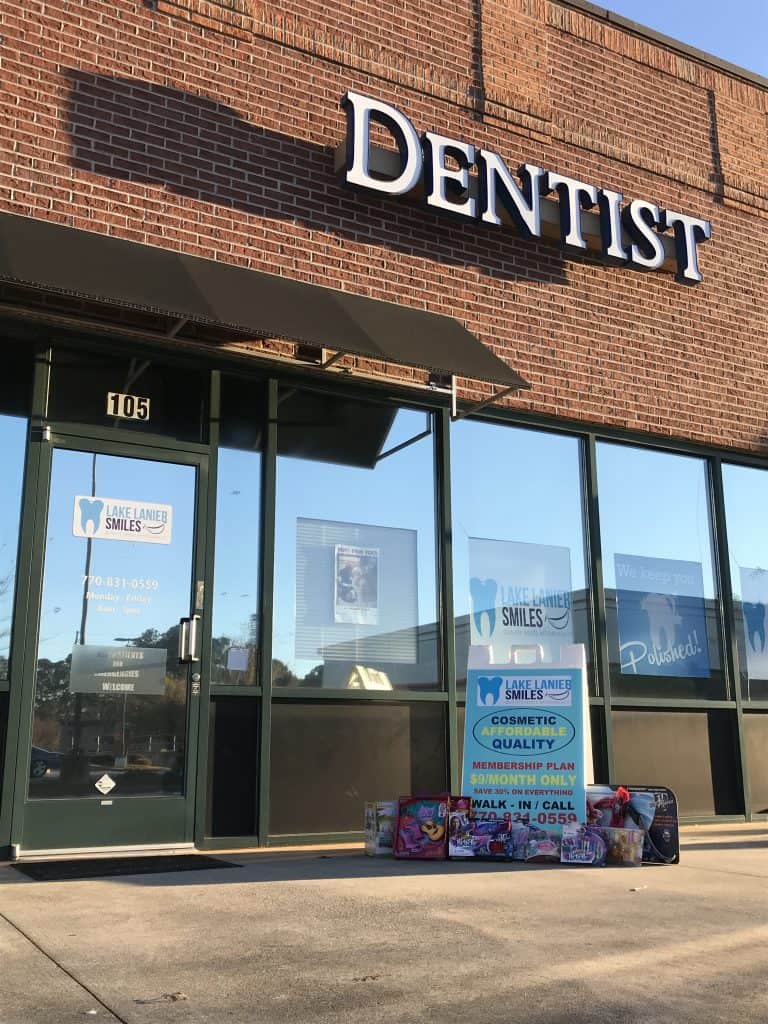 ---
HOME OF HOPE
GWINNETT COUNTY CHILDRENS SHELTER: NOVEMBER 2020
"This Month, November, Lake Lanier Smiles really got into the spirit of giving. The team decided to include patients in a "Household Items" Drive for the Gwinnett County Children's Shelter, Home of Hope. On November 20th the Lake Lanier Smiles team members Sam and Gabee went over to Home of Hope to make the delivery of donated items and took a tour of the facility. This non-profit organization helps single mothers find their way back to normalcy after suffering homelessness. On behalf of the Lake Lanier Smiles team, we would like to thank all the patients and people of the community who contributed to this great cause and made a difference in the women and children's lives who are a part of the Home of Hope family."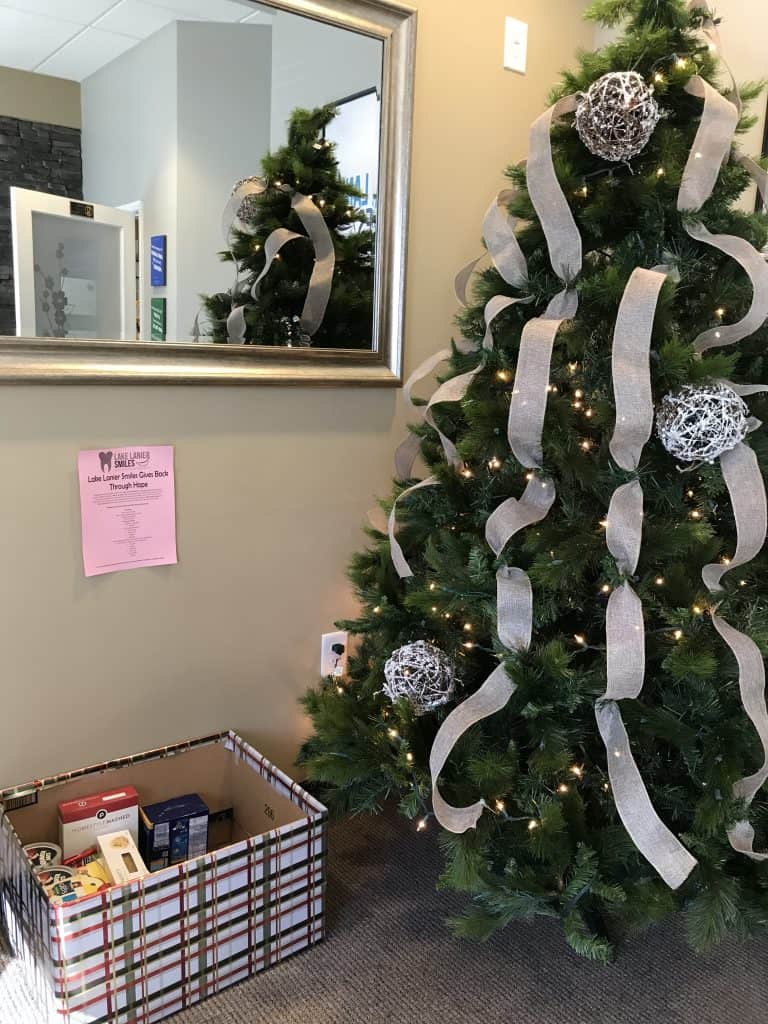 ---
Service To Veterans : 2020
"Today we decided to show our love for Veterans through our love of dentistry. Patients who have served in our armed forces were given the opportunity to come in and receive a Free Exam, Free X-Rays, Fillings and or Extractions Free of Charge. We love being able to give back to our community and by offering this amazing opportunity we were able to serve those who served for our country."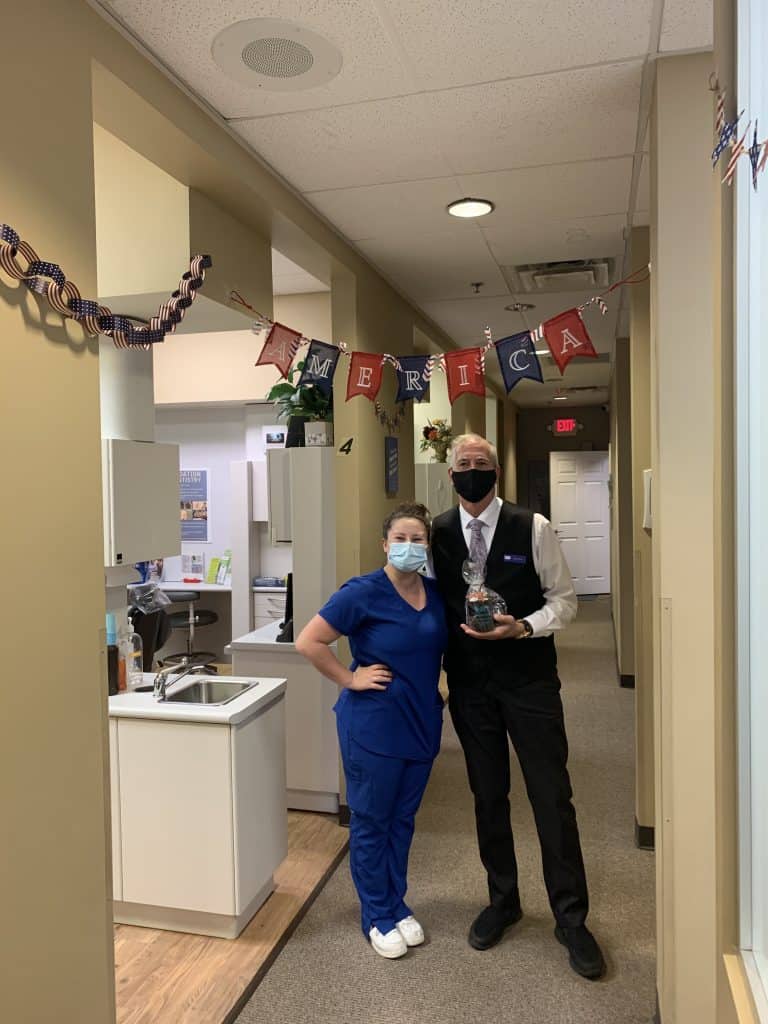 ---
Letters For Operation Gratitude 2020
This fall Lake Lanier Smiles staff and patients are giving the opportunity to compose a letter to War Veterans, First Responders, EMS Employees, Deployed Troops, Wounded Warriors and more. We believe that it is important to acknowledge those who cannot be with us due to giving their time, energy and lives to keep us safe! As a token of our appreciation we will be sending out two boxes of handwritten letters to California and they will be distributed throughout the country and overseas through a company called Operation Gratitude. Each letter will be included in a Care Package and while this initiative started in September we are pleased to announce that this will be offered year round! Not only can patients compose letters in office but letters can be hand written and mailed into our office as well. We will now be considered a small distribution center for Operation Gratitude! We have already started to receive letters from as far out as West Virginia and New Hyde Park, NY!!"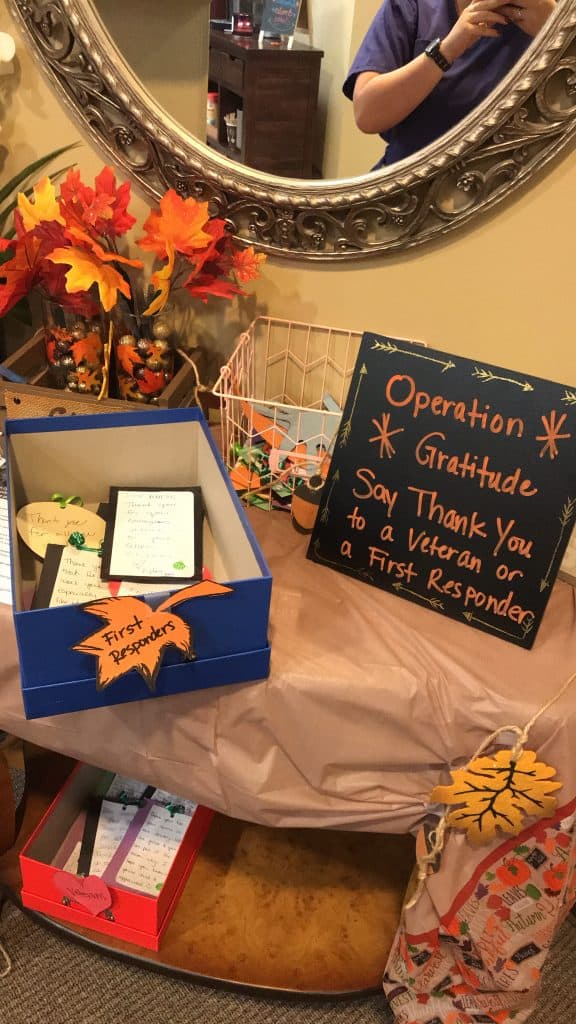 ---
Lake Lanier Smiles Response to COVID-19
At Lake Lanier Smiles, Buford Dentist we came together as a community during this pandemic crisis and helped the people in need. We wanted do our part by keeping our community safe and healthy.
We donated head bands to the local hospital systems.
We donated 100 free dental consults on phone during the shutdown.
Donated Gloves and masks to surrounding subdivisions to prevent COVID-19 spread.
Donated groceries to the needy.
Donated care packages for elderly so they don't have to go shopping.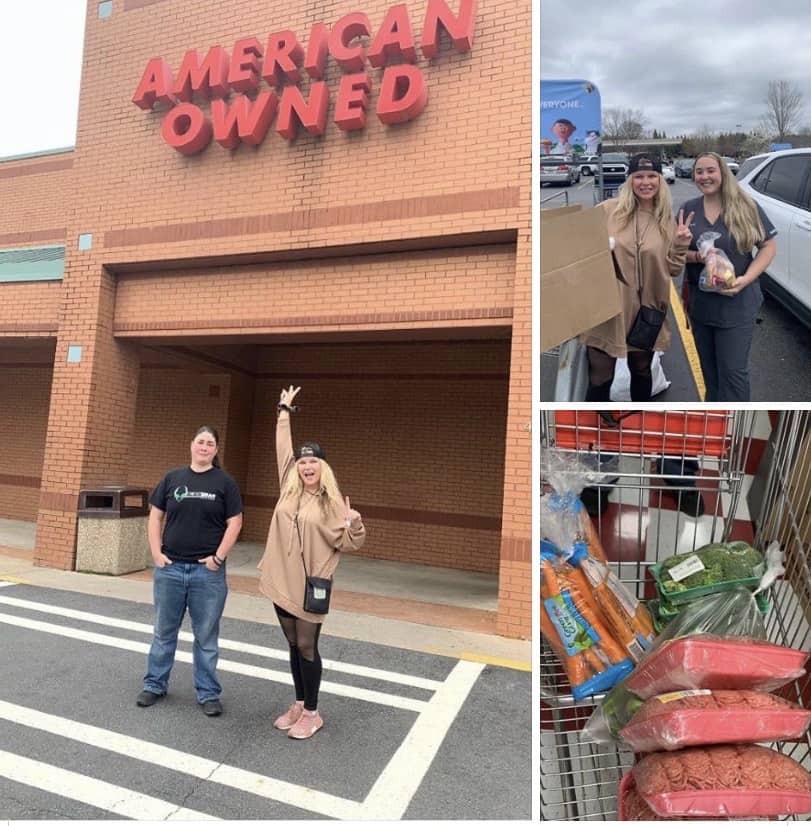 ---
GIVE KIDS A SMILE 2020
It was a great success this year with "Give Kids A Smile". We served underserved children of Dallas and surrounding towns of Paulding County on February 21 st 2020. We are doing this event since multiple years and every year we do it in February, which is Children's Dental Health Month.
Give Kids A Smile is a national program launched by American Dental Association to serve underserved children. Dental Caries is the most prevalent childhood disease which causes pain, swelling, missing school.
In this event we did Free X -Rays, Exam, Oral Health Education, Fluoride and Cleaning for kids aged from 2 to 12 years.
Dallas Dental Smiles appreciates the team who generously served the patients along with Volunteers from the community. We also thank Henry Schein for sending us the supplies.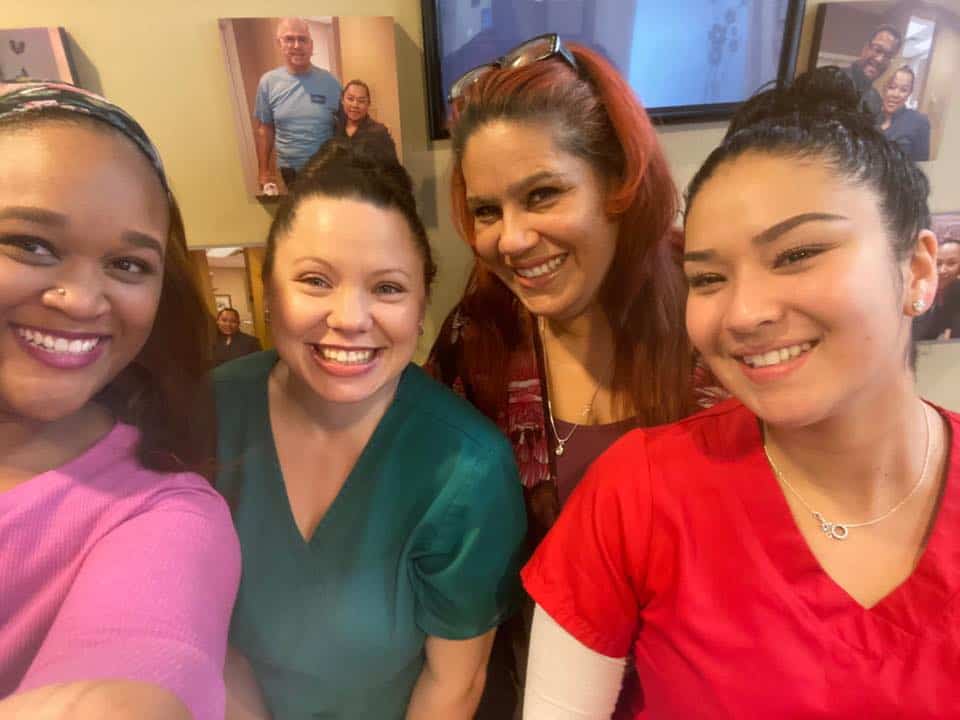 ---
TOYS FOR TOTS 2019
United States Marine corps runs this great campaign which distributes toys to children whose parents cannot afford to buy them gifts for Christmas.
We really appreciate the turnout of donations from our patients, team members and neighbors.
We chose to do Toys For Tots Campaign as it is a very effective program delivery and fiscal responsibility is top rated.
We are very proud to be part of this campaign in Cumming as it plays an important role in the development of our children who are our most valuable resource.
Toys for Tots at Cumming Dental Smiles made a small contribution to better our community and also bring Joy and happiness to the children in need.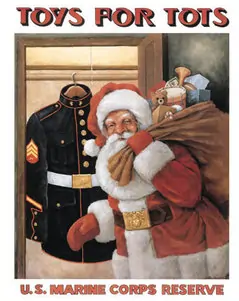 ---
BLOOD DRIVE 2019
Lake Lanier Smiles, Buford Affordable Dentist collaborated with Life South, a community blood center which collects the blood from donors and helps patients in our local hospitals.
We are honored to join in the mission to provide a safe blood supply that meets or exceeds the needs in our community we serve.
We are thankful for the staff of Lake Lanier smiles and our patients and community of Buford,Ga for donating blood and making this blood drive a success.
Life South serves many hospitals in the metro Atlanta, Northeast Georgia Medical Center and Gwinnett Medical Center.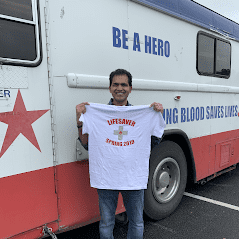 ---
GIVE KIDS A SMILE : 2019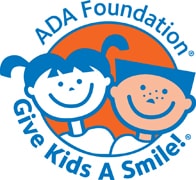 Through Give Kids A Smile program launched by the American Dental Association, our dentists and team with some volunteers helped under served children. We helped more than 20 kids with Free X-Rays and Examination with Cleaning. Gave all the kids Tooth Brushes, Tooth Pastes and Oral Health Education Videos.
Buford Dentists at Lake Lanier Smiles provided quality full- service dentistry free of charge to children with inadequate access to dental care.
History: Give Kids A Smile was launched nationally by ADA in 2003 and more than 5.5 Million under served children have received free oral health services.
We are proud to be a volunteer member of Give Kids A Smile in Buford,Ga.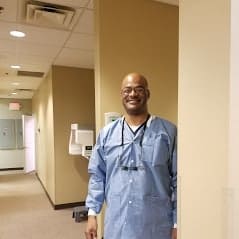 ---
PATIENT APPRECIATION DAY 2019
As our way of saying thank you for choosing Lake Lanier Smiles, we hosted our first Patient Appreciation Day at our Buford practice on January 31st, 2019. Here are some great moments we captured.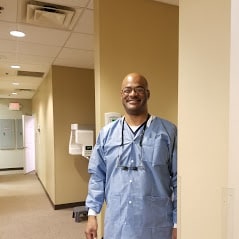 ---
TOYS FOR TOTS 2018
The Marine Toys for Tots Program has been delivering a message of hope to less fortunate youngsters since 1947. Thank you for sharing more than 50 toys with Lake Lanier Smiles,Buford,Ga. We sent them on time to U.S. Marine Corps to distribute these toys to children whose parents cannot afford to buy them gifts for Christmas.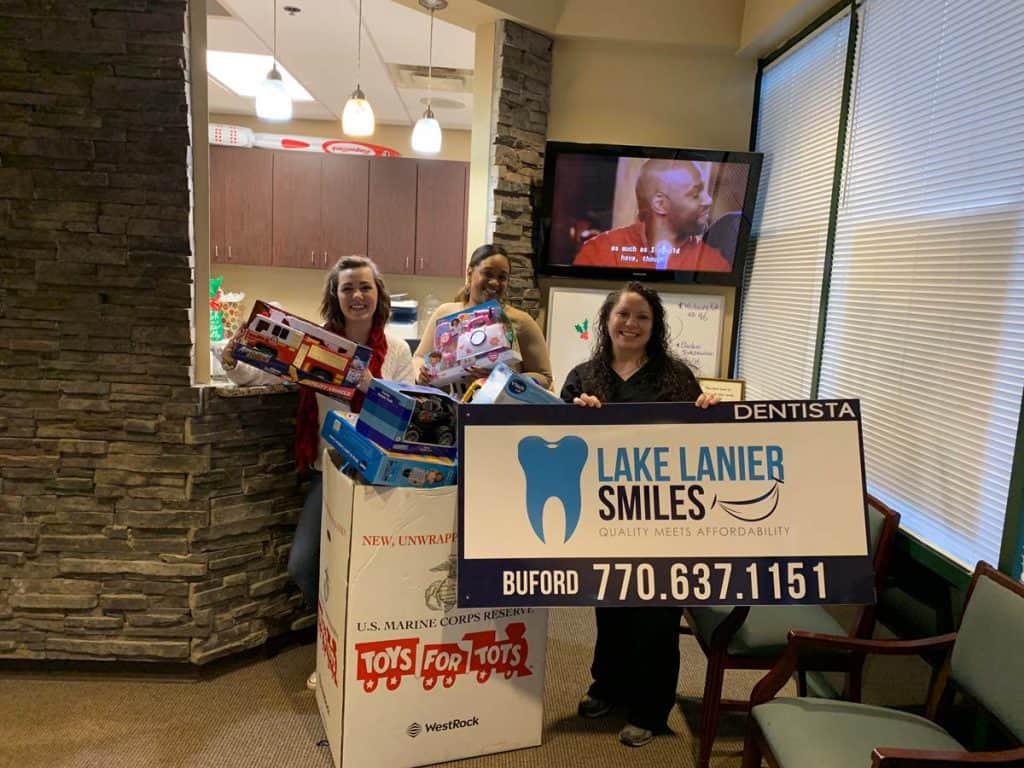 Get in Touch